Want To Learn More About Our Appliance Repair Service?
Let Us Help with Your: Refrigerator • Washer • Dryer • Dishwasher • Range Electric and Gas •
Refrigerator • Washer & Dryer • Range Gas & Electric • Repair Service2>
Appliance Repair Services We Offer
Refrigerator Repair

2>


Refrigerator Warm,  Refrigerator Not Cold Enough, Excessive Sweating in Fresh Food Compartment, Frosting in Freezer, Leaks Water, Ice Maker Not Working, Other Problems.
Washer Repair
Washer Completely Dead, No Agitate or Spin, No Draining, No or Sluggish Spin, Leaks, Clothes Too Wet at End of Cycle, Clothes Still Soapy at End of Cycle, No Cold Water , Other Problems.
Dryer Repair
Clothes Take Too Long to Dry, Dryer Doesn't Run At All, No Heat, Noisy, Starting but makes growl sound, No Tumble, Other Problems, Dryer Warm but Not Drying Clothes.
Stove, Range, Oven Repair
Erratic Temperature, Oven Control Not Hot Enough, No Clock Operation, No Self Clean, No Bake or Broil, Burner Doesn't Get Hot, Oven Won't Ignite No Flame Control.
Dishwasher Repair
Doesn't Clean Dishes Well, Glassware is Cloudy, Hums Then Shuts Off, Runs Too Long, No Water Into Dishwasher, Not Draining, Leaks Water, Will Not Start at All.
Social Media
Get Great tips and ideas when you like us on Facebook and follow us on Google plus. Kansas City Appliance Repair discusses real world situations about your appliances.
Before I was ever in the appliance repair business I had the same concerns and fears about calling an appliance repair company as you do today.  My mind would race with crazy thoughts. 

How much is this going to cost? Is that old thing worth fixing?  I should just go buy NEW.  I should just fix it myself. All these thoughts made me nuts and my wife thought I had gone off the deep end.   All I could hear in my mind was Ka Ching Ka Ching.

I know how you feel. Our mission at KC Appliances and Repair is clear. Giving you quality service at a fair price on your appliance repair.
 
After the problem is pinpointed and diagnosed we make sure you understand what needs to be done before we ever start a repair. Simple I know.

You see, when all the facts are on the table, that information helps you make a better decision.  Not all appliances are worth fixing but the majority of them are a simple fix.  Our technicians are trained to explain what has happened and how it can be fixed economically.  Helping you take the next step without emotion.


Pulling the Curtain Back

Some companies offer a low price to show up and diagnose your appliance.  This might sound good but usually is a gimmick.  These service technicians often over charge on parts to make up for the diagnostic and operating fees not charged.  Our technicians are not on commission and do not have quotas to sell more services than is needed.  Simply put, fair price for appliance repair call and service.


We are here to help you… get back to normal call 877.983.4933 x7 to get expert appliance repair service in your area.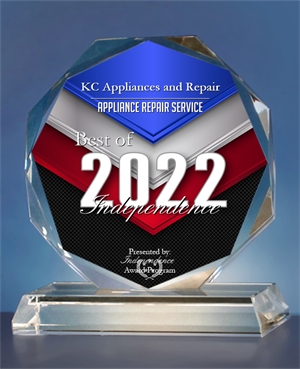 KC Appliances and Repair - 877.983.4933
2411 MO-291, Independence, MO 64057
Copyright 2022 - All Rights Reserved